Description
Light fermentation: 10%. 
This is one of the most celebrated teas from Taiwan. Its Chinese name is "wrapped in paper" and reminds us that this tea, before fermentation, is wrapped in a white sheet of cotton paper to preserve the delicacy of its leaves. A very beautiful tea with large, twisted leaves that produces a pale yellow beverage, with a flowery, almost peppery taste that evokes narcissus and jasmine flowers that majestically associate greenness and mildness.
Tasting notes
Liqueur
Colours: golden
Texture: silky
Flavours: sweet
Aromas: vegetal start, floral notes (white flowers) with hints of vanilla, butter and spices.
Suggestion of preparation
With the tasting set: 5'-7'minutes in water heated to 95°C.
With the Gong Fu Cha (teapot/Gaiwan): 5 infusions during 30-40 secondes.
Recipe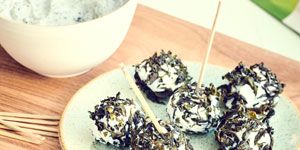 Goat's cheese balls rolled and cream dip with Bao Zhong Impérial
Serves 4
Apetizer
View recipe