Description
Genmaicha Yama is a traditional Japanese tea that blends Bancha green tea with roasted brown rice. Refreshing plant notes beautifully complement the toasted flavor of the grain, giving the tea a very characteristic flavor.
This unusual tea is delicious either hot or iced and pairs well with meals.
Tasting notes
Liqueur
Couleur : vert/jaune
Texture en bouche : souple en bouche
Saveurs : légère acidité
Arômes : grillé, céréale en attaque, soutenus par des notes fraîches végétales
Profil aromatique et longueur en bouche : présent dès l'attaque. Longueur moyenne
Suggestion of preparation
To prepare latte tea:
Steep 8g in a mixture of 25cl of water at 75°C and 25cl of hot milk for 5min.
Find out more about the latte preparation.
Recipe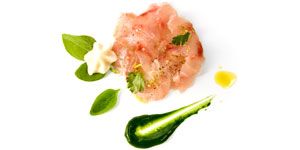 Carpaccio de daurade sur lit d'épinards, émulsion Genmaicha Yama
Pour 4 personnes
Temps de préparation : 35 minutes
Voir la recette
Tea ingredients
green tea (Japan) (52%), roasted brown rice (48%)