Description
This green tea is made in Kabarole, a region in western Uganda. It is harvested at an altitude over 1,500 metres. The tea estate which produces this Grand Cru makes use of eco-friendly practices to cultivate its excellent teas.
A sweet Grand Cru with vegetal, honeyed, floral and mineral fragrances which develop against the tea's especially silky texture.
This tea is grown organically and certified by Ecocert, an accredited independent certification body.
PALAIS DES THÉS IS HELPING TO PROTECT THE CHIMPANZEES OF UGANDA
Palais des Thés has teamed up with Sabrina Krief, primatologist and founder of the Association Projet pour la Conservation des Grands Singes (PCGS), which works to protect chimpanzees in the wild and helps them to live alongside farmers in Uganda:
- By supporting the Kahangi Estate, which uses organic, environmentally friendly farming methods to protect local wildlife,
- By donating €2 to the PCGS for every 100g of Organic Kahangi Green Tea and Organic Black Kahangi Tea it sells.
If you wish to donate to the PCGS, please visit www.helloasso.com/associations/projet-pour-la-conservation-des-grands-singes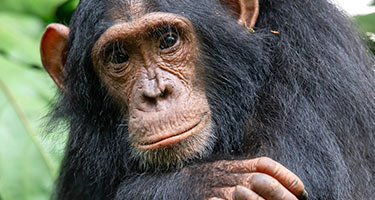 Photo credit: Jean-Michel Krief
Further information:
> Situated in the foothills of the Rwenzori Mountains in Uganda, the Kibale Forest National Park is home to highly diverse flora and fauna including a large population of our closest relatives, the chimpanzees. These primates are being threatened in their own habitat because tea plantations around the National Park use chemicals that cause deformities. Poachers are also active in the area and inflict terrible injuries on the primates. The chimpanzees sometimes eat the villagers' crops, which makes the farmers even worse off, as well as angry.
> To protect local biodiversity, a strip of approximately five thousand acres around the forest must be converted to organic farming, and working conditions must be improved to reduce poaching.
> The Kahangi Estate only covers 100 acres, so the PCGS is working with small producers who are willing to convert their plantations to organic methods.
> Through the PCGS, Sabrina and Jean-Michel Krief employ 25 Ugandans who monitor the chimpanzees, educate locals on environmental issues, work to prevent poaching, and help farmers live more harmoniously alongside their natural environment and the primates.
> We cannot ignore this situation that is affecting people, animals and nature. By supporting the PCGS, we can help bring about a more responsible and sustainable approach to the population and the environment.
Tasting notes
Feuille sèche
Appearance: twisted leaves
Colour: dark green with silver hints
Notes: vegetal, fruity, honeyed
Infusion
Notes: vegetal, mineral, fruity
Liqueur
Colour: golden
Texture: silky
Flavour: sweet
Notes: vegetal, honeyed, floral, mineral, nuts
Suggestion of preparation
With the tasting set: 4' minutes in water heated to 75°C.
Grands Crus: savour the exceptional
Rare and ephemeral, teas identified as Grands Crus by Palais des Thés are the result of alchemy between a tea plant variety, its terroir and the talent of an artisan grower. Meticulously plucked, processed and sourced in the most respected tea gardens, our Grands Crus unveil unique flavours that reflect the refinement of their origins.