Description
Paris for her is a flavoured green tea that is delicate and refined, like a Parisian woman. The notes of rose, raspberry and lychee are perfectly matched in this delicious floral blend.
Palais des Thés continues to create excellence with its homage to Paris: two new refined flavoured blends. Paris for her and Paris for him pay tribute to the romantic and elegant City of Light; to legendary fragrances and tender moments. These indulgent blends, one containing green tea and the other black tea, bring out the Parisian lady and romantic French lover inside of all.
Paris for her and Paris for him make delicious and meaningful gifts for birthdays, weddings, holidays and anniversaries, or can simply bring the spirit of Paris to your home.
Discover Paris for him, a black tea with notes of citrus, coriander and vanilla ; intense and subtle, like a Parisian man.
Discover also Paris for her and Paris for him gathered in a new Gift Set.
Suggestion of preparation
How to prepare iced tea :
Quantity: 16 g for 1L of water
Infuse at room temperature for 30 minutes. When the infusion is ready, place the liquor in the fridge to cool.
Recipe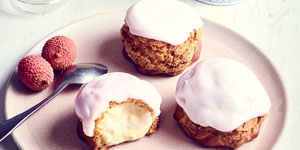 Pink lychee choux pastries flavoured with Paris for Her
Serves 6
Dessert
View recipe
Tea ingredients
green tea (China) (90%), raspberry (2%), blue mallow flowers, rose (2%) and sunflower petals, flavours (red fruits, rose lotus, lychee 0.5%, raspberry).