Description
Turmeric Matcha is a delicious blend of two ingredients renowned for their antioxidant benefits. The strong, invigorating flavour of matcha green tea mingles harmoniously with the spicy, bracing notes of turmeric.
This organic and high quality recipe, without any additives is available in single-serve packets to take with you everywhere.
Organic certifications: AB label, EU certified organic food label, Ecocert organic certification, USDA Organic label
Contains liquorice – enjoy in moderation if suffering from high blood pressure.
1g sticks.
Suggestion of preparation
To prepare hot tea:
Open the packet and pour the contents into a cup.Add 200mL of water at 70°C. Mix with a spoon.
To prepare latte tea:
Open the packet and pour the contents into a cup.Add a very small amount of hot water then stir.Add 200mL of hot or cold milk.Stir.Mix with a spoon.
Find out more about the latte preparation.
Tips from our Tea Sommeliers:
- Also delicious with vegetable milk.
- Comes in recipes.
Recipe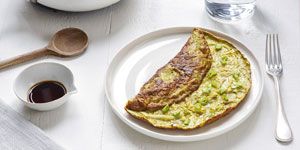 Japanese omelette with Turmeric Matcha
Serves 1
Dish
Medium
View recipe
Tea ingredients
Organic matcha green tea (Japan) (40%), organic turmeric (30%), organic liquorice.