Sunrise on the beach
1 drink
Cocktail with alcohol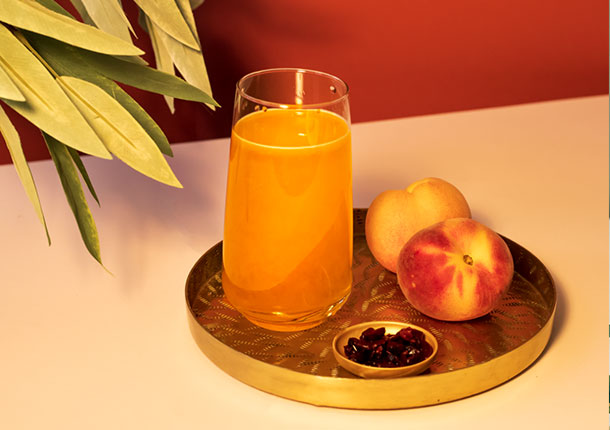 Ingredients
16 g
500 mL vodka
500 mL filtered water
20 mL Crème de Pêche liqueur
20 mL passion fruit coulis
40 mL cranberry juice
Preparation
1.

For the teas
Steep 8 g of in 500 mL vodka for 5 hours.
Steep 8 g of in 500 mL filtered water (or low-mineral water, if you prefer bottled) for 1.5 hours in the refrigerator.
2.

For the cocktail (makes one drink)
Fill a shaker with crushed ice, then add 60 mL of the vodka-tea mixture, the Crème de Pêche, 160 mL of steeped in water, the coulis, and the cranberry juice.

Shake vigorously for about 15 seconds, then pour into a highball glass.
Serving suggestion
Use the remaining steeped Juicy Sunrise to make ice cubes. Pour the brew into an ice cube tray and freeze
Excessive alcohol consumption is dangerous to health: consume in moderation