Le Temps Retrouvé Madeleines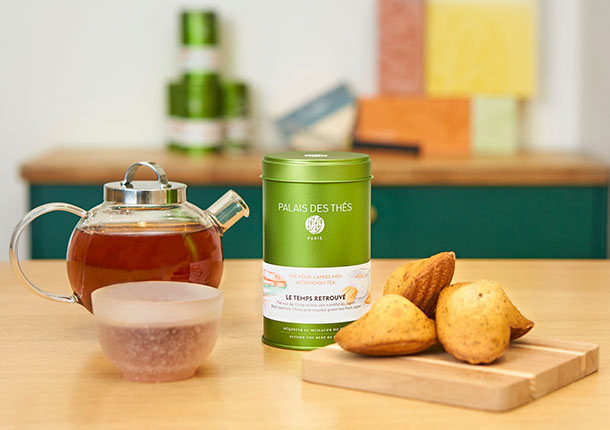 Photographer: Charles Jean
Ingredients
45 g milk
4 g of
115 g eggs (or 3 small eggs)
100 g granulated sugar
22 g rhododendron honey
45 g infused milk
150 g flour
7 g baking powder
3 g of
150 g butter
Préparation
Bring the milk to a boil, add the tea and let infuse for 30 minutes.

Strain the infused milk to remove the tea leaves.

Weigh the filtered preparation and add milk up to 45 g. Set aside.

In the warm infused milk, add the honey and set aside.

Sift flour and baking powder together and set aside.

In a bowl, beat the eggs with the sugar to obtain a frothy mixture.

Grind the 3 g of tea.

Melt the butter (about 80°C).

Mix the eggs and the sugar till a creamy color. When the mixture is well mixed, add the honey-infused milk, flour and baking powder, the ground tea and finally the melted butter.

Set aside in the refrigerator for 24 hours.

Butter and flour the madeleine tray.

Mix the madeleine dough to make it smooth.

Fill the tray and bake at 180°C for 6 to 8 minutes.
Tasting tips
Enjoy these madeleines with a little honey.