Palais des Thés, run by people passionate about tea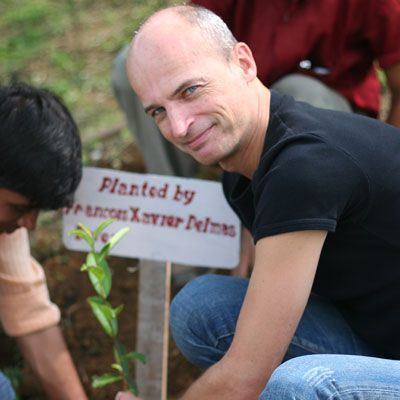 François-Xavier Delmas
Our founder, François-Xavier Delmas, travels the world in search of the finest teas. For the past 30 years he has spent much of his time visiting gardens and plantations, meeting farmers and producers. This has given him an in-depth knowledge of the tea regions, terroirs and techniques, and above all allowed him to forge close ties with the people who dedicate their lives to making the best teas.
Thanks to this constant presence in the field, François-Xavier has been able to taste some exceptional teas and discover rare pluckings that are prized local specialities, but often completely unknown in the West. This inestimable knowledge is particularly reflected in the selection of rare, limited-edition and artisanal teas available in Le Palais des Thés stores. Every week, François-Xavier shares his knowledge on his blog, Discovering Tea, describing his visits to tea plantations, the people he meets, and his thoughts and experiences.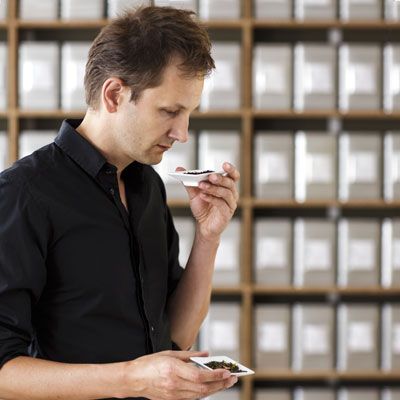 Mathias Minet
Mathias Minet joined Palais des Thés alongside François-Xavier Delmas in the late 1990s. Together, they have led the growth of the company, bringing tea to as many people as possible. In 1999 they set up the Tea School to share their expertise and experience in tea tasting. They have also written two books on tea: Le Guide de dégustation de l'amateur de thé (Edition du Chêne 2007), which has been the leading French-language guide to tea for the past 10 years, and more recently Tea Sommelier, Le thé en 160 leçons illustrées (Edition du Chêne 2016).
For 20 years, Mathias has been creating unique flavoured blends for Palais des Thés including hugely popular teas such as Thé du Hammam, Blue of London and Vive le thé!
Tea Sommeliers
Experts in the art of tea-tasting, the role of our tea sommeliers is to transmit their expertise and passion. Every day, in our stores, they help customers navigate the different flavours and aromas of the finest teas. As connoisseurs of tea and food pairings, they also advise chefs and sommeliers at leading restaurants. To become a tea sommelier, Palais des Thés' employees must gain in-depth knowledge of tea by following a practical and theoretical training programme with the Tea School. This course concludes with an exam and the awarding of the Tea Sommelier diploma.