How to prepare tea?
It is important to respect the advice on water temperature and infusion time to be able to appreciate all the qualities of a tea. These informations are indicated on our packagings.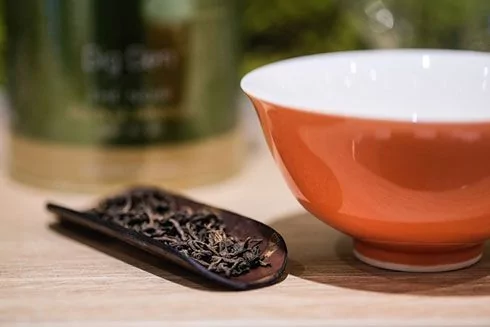 Quantity of tea
How do you know the quantity of tea leaves to brew to suit the size of your teapot? Firstly, it is obvious that the more tea leaves you use, the more concentrated the liquor, which can cause an imbalance in its components. To avoid an unpleasant experience, use 0.07 oz. (2g) of tea leaves for 4 fl. oz. (12cl) of water. To weigh the dry leaves, you can find electronic scales on our website, accurate to the nearest 0.1g. You can also use tea filters or tea measures, and use the quantity of leaves indicated. Another option is to use tea bags, which makes life very easy as each one contains 0.07 oz. (2g) of tea!
Water temperature
While heat makes most components of tea soluble, it can also destroy or alter some of them. Controlling the water temperature allows you to balance the components in each tea. There is an optimal brewing temperature for each type of tea, which should be respected to bring out all of its qualities. To guide you, the appropriate brewing temperature is marked on all our packaging.
We also suggest the use of the stainless steel thermostatic kettle which makes it easy to select one of six different pre-set temperatures.
Perfect brewing time
It is essential to steep your tea for the correct time to bring out all of its qualities. Brewing times vary between 10 seconds and 20 minutes, and are determined by the chemical components of each tea. For example, an Oolong can be brewed for a long time, and even several times. On the other hand, a Japanese green tea should never be steeped for longer than two minutes. In reality, what is more important than a rule is to know about the type of tea. For the perfect tasting experience, we suggest you following the indications on our packaging. To avoid leaving your tea to brew for too long, we suggest the use of the electronic timer.
Brewing board
| Green Teas | Water Temperature | Brewing Time | Quantity for 10 fl. oz. (30 cl) |
| --- | --- | --- | --- |
| Japan | 50 to 75°C – 120 to 170°F | 1 - 3 min | 6g |
| China and other origins | 75°C - 170°F | 2 - 5 min | 6g |
| Black Teas | Water Temperature | Brewing Time | Quantity for 10 fl. oz. (30 cl) |
| --- | --- | --- | --- |
| India - Darjeeling first flush | 85°C - 185°F | 2 - 3 min | 6 to 8g |
| India – others Darjeeling flush | 85°C - 185°F | 3 - 5 min | 6 to 8g |
| India – Assam | 95°C - 200°F | 3 - 4 min | 6g |
| China | 85°C - 185°F | 4 - 5 min | 6g |
| Sri Lanka and other origins | 85°C - 185°F | 3 - 5 min | 6g |
| Oolong Teas | Water Temperature | Brewing Time | Quantity for 10 fl. oz. (30 cl) |
| --- | --- | --- | --- |
| Oolong Teas | 95°C - 200°F | 5 - 7 min | 8g to 10g |
| Gong Fu Cha preparation | 95°C - 200°F | Brews of 20 sec - 1 min | Fill the teapot with tea |
| White Teas | Water Temperature | Brewing Time | Quantity for 10 fl. oz. (30 cl) |
| --- | --- | --- | --- |
| China | 70°C to 75°C – 160°F to 170°F | 5 - 10 min | 6g |
| Other origins | 70°C to 75°C – 160°F to 170°F | 4 - 8 min | 6g |
| Dark Teas | Water Temperature | Brewing Time | Quantity for 10 fl. oz. (30 cl) |
| --- | --- | --- | --- |
| Pu Erh | 95°C – 200°F | 4 - 5 min | 6g |
| Flavoured Teas | Water Temperature | Brewing Time | Quantity for 10 fl. oz. (30 cl) |
| --- | --- | --- | --- |
| Green Teas Base | 75°C – 170°F | 3 - 5 min | 6g |
| Black Teas Base | 85°C – 185°F | 4 - 5 min | 6g |
| Oolong Teas Base | 90°C – 190°F | 5 - 7 min | 6g |
| Rooibos Base | 95°C – 200°F | 5 min | 6g |
| Iced Teas | Water Temperature | Brewing Time | Quantity for 17 fl. oz. (50 cl) |
| --- | --- | --- | --- |
| Iced Teas | Ambient temperature | 30 min | 8g |
| Infusions | Water Temperature | Brewing Time | Quantity for 10 fl. oz. (30 cl) |
| --- | --- | --- | --- |
| Infusions | 95°C – 200°F | 4 - 7 min | 8 - 10g |
| Iced infusions | Water Temperature | Brewing Time | Quantity for 17 fl. oz. (50 cl) |
| --- | --- | --- | --- |
| Iced infusions | Ambient temperature | 60 min | 10 - 15g |