Chocolate ganache Green of London tea
By Anne Desplancke
Serves 8
Dessert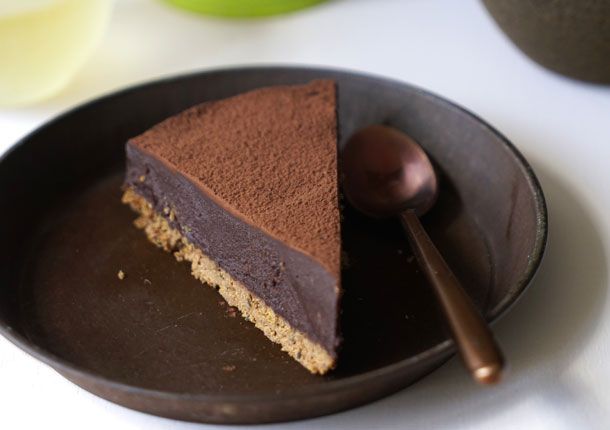 Ingredients
Crunchy biscuit base
200g gianduja (or similar), melted
120g Crêpes Dentelle biscuits (or similar)
150g speculoos-type biscuits
2 tbsp
, blended until powdered
Ganache with green tea
200g dark chocolate (60% cocoa)
280g whipping cream (30% fat)
40g honey
30g butter, softened
2 rounded tbsp
, blended until powdered
Optional: cocoa powder for decoration
Preparation
1.

Crunchy biscuit base
Crush the biscuits into crumbs and tip into a mixing bowl. Add the melted gianduja and combine well.

Spread the mixture evenly in the tart ring, placed on a plate, and press down firmly with the back of a spoon.

Sprinkle with the powdered tea, then leave to chill in the fridge for 30 minutes.
2.

Ganache
Heat the cream and honey in a saucepan, then remove from the heat. Add the tea, cover the pan and leave to infuse for 7 minutes.

Strain through a sieve and heat the cream mixture again without allowing it to boil.

In a bowl, break the chocolate into small pieces. Pour the hot cream over it in three parts, while stirring with a spatula.

Add the softened butter and blend the mixture with a stick blender.

Pour over the tart base then leave to set in the fridge for at least 2 hours.

Dust with cocoa powder before serving.
Serving suggestion
An easy way to crush the biscuits is to place them in a food bag then smash with a rolling pin.