Cod fillet poached in a bouillon of Thé des Lords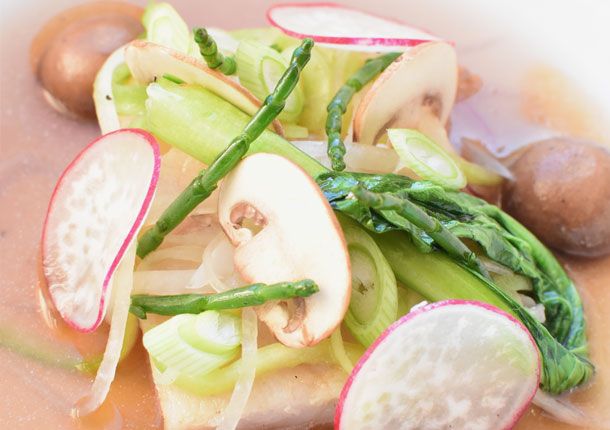 © Photo : Gilles Quillot
Ingredients
4 cod fillets, approx. 100 g each
1 large turnip
1/4 cucumber
50 g samphire
1 Chinese cabbage
50 g chestnut mushrooms
2 radishes
15 g butter
100 ml water
Salt
1 tbsp olive oil
Earl Grey tea bouillon
1 tbsp olive oil
1 leek
100 g carrots
50 g shallots
1/2 fennel
50 ml white wine
10 g dried royal kombu
1 bergamot (or 1 lemon)
50 ml mirin
20 ml rice vinegar
500 ml water
Steeped tea
Preparation
1.

Preparing the bouillon
Peel the vegetables and cut into thin strips.

Heat the olive oil in a frying pan and sauté the vegetables over a low heat without browning.

Add the white wine.

Bring to the boil, add the water and bring back to the boil.

Remove from heat, cover and leave to infuse for 30 minutes with the kombu.

Add the mirin and rice vinegar.

Prepare the tea by steeping for 3 minutes at 95 °C.

Combine the bouillon and steeped tea (2/3 bouillon to 1/3 tea).

Add the zest and juice of the bergamot.

Season to taste.

Slice the radishes very thinly and place them in cold water to keep them crisp.

Clean the tops of the chestnut mushrooms and steam them with 15 g of butter, 100 ml of water and salt.

Peel and cut the cucumber and turnip into 7 cm slices.

Use a fine mandolin to make vegetable spaghetti.

Prepare the samphire and Chinese cabbage.

Cook for 30 to 40 seconds in a little olive oil with the chopped vegetables.
2.

Cooking the fish
Heat half the bouillon and add the slices of fish.

Remove from heat, cover and leave for 5 minutes.

Place all the vegetables into a deep dish, topped with the poached fish.

Cover with the bouillon.

Add the mushrooms and sliced radishes.