Dark Chocolate Molten Cake with Thé Enchanté-Infused Whipped Ganache
6 individual cakes
Dessert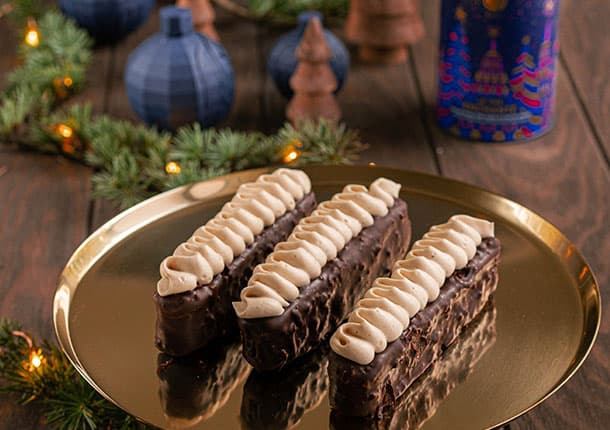 Ingredients
For the cakes
2 eggs
80 g (2.8 oz) dark chocolate (minimum 60% cocoa), chopped
50 g (2 oz) + 1 tablespoons liquid crème fraîche
10 g (0.35 oz)
25 g (2 Tablespoons) granulated sugar
40 g (1/2 cup) blanched almonds
For the whipped ganache
300 g (10.5 oz) liquid crème fraîche
4 Tablespoons water
40 g (1.4 oz)
75 g (2.6 oz) white chocolate, chopped
2 g leaf gelatine (approximately 1 sheet)
For the praline glaze
300 g (10.5 oz) dark chocolate (minimum 60% cocoa), chopped
55 g (11 tablespoons) neutral oil (preferably grapeseed oil)
35 g (1/4 cup) crushed hazelnuts
35 g (3 tablespoons) sugar
Equipment
Silokomart 13-cm (5-inch) silicone finger moulds
Wilton petal decorating tip no. 124
Preparation
1.

The previous day, prepare the whipped ganache
Put the gelatine in a large bowl of cold water to soften.

In a saucepan, warm 100 g of crème fraiche without boiling it.

Add 4 tablespoons of water and the 40 g of in a tea filter, then cover and let steep for 7 minutes.

Remove the tea leaves and bring the mixture to the boil.

Wring the water gently from the gelatine. In a large bowl, place the white chocolate, the infused cream, and the gelatine. Wait 2 minutes and then stir to combine.

Once the mixture is smooth and even in consistency, add the remaining 200 g of crème fraiche and stir. Cover tightly with cling film and refrigerate overnight.
2.

Make the cakes
Preheat the oven to 180°C (350°F).

Warm the cream for 30 seconds in the microwave at 800 W (the quantity is too small to warm in a pot). Add 1 tablespoon of water and the 10 g of in a tea filter, then let steep for 5 minutes.

Separate the egg yolks from the whites.

In a large bowl, beat the egg whites until they form stiff peaks. When the whites start to become frothy, add the sugar in three parts to produce an airy texture.

Melt the dark chocolate in a double boiler. Pour the infused cream over the chocolate and stir.

Add the egg yolks and finally the almond flour. Delicately fold in the fluffy egg whites.

Pour the batter into finger moulds arranged on a baking sheet and bake for 10 minutes.

Remove the cakes from the oven and let them cool in their moulds on the counter, then freeze for at least 4 hours so that you can unmould them easily with no sticking.
3.

Make the praline glaze
Melt the chocolate in the microwave, add the oil and stir well.

Combine the hazelnuts and sugar with the melted chocolate and set aside for at least 15 minutes before using. (Make sure to use a bowl large enough for glazing the cakes.)
4.

Assemble the cakes
Remove the cakes from the moulds and poke a toothpick or skewer into each end to hold while you dip both sides of the cake into the glaze.

Set the cakes on a wire rack for 30 minutes while the glaze hardens.

As it hardens, the glaze may stick to the rack. Simply run a knife blade under the cakes to unstick them.

Pour the ganache into the bowl of a stand mixer with whisk attachment and beat until light, like whipped cream.

Fill a piping bag with whipped ganache and pipe it over the cakes.

Refrigerate until ready to serve.