Pear Tarte Tatin with Thé des Étoiles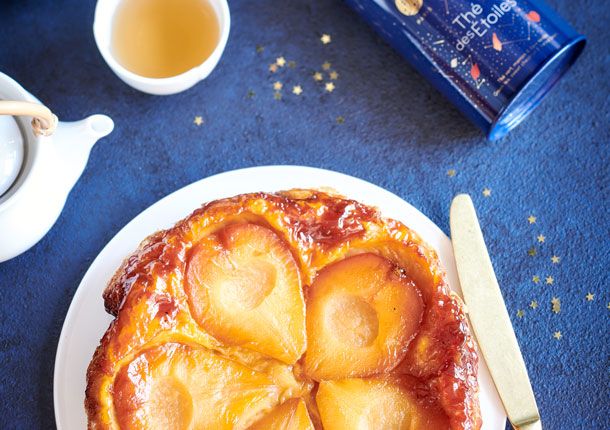 Ingredients
20 g of
1 sheet puff pastry
400 g caster sugar
6 pears
1 yellow lemon
1 litre water
Preparation
1.

The pears
Peel the 6 pears.

Halve them lengthwise.

Remove the core and the pips using a melon baller or a small spoon.

Add the lemon juice.

Pour the water and 100 g of sugar into a large saucepan.

Bring to the boil to dissolve the sugar.

Lower the heat, add the tea leaves and the pear halves.

Simmer for 15 minutes.

Remove the pan from the heat and leave the pears to cool down in the cooking syrup.
2.

The caramel
Caramelise the 300 g sugar, dry, until it is golden brown (not too brown).

Pour the caramel into the base of a tart tin.
3.

Assembling and cooking
Preheat the oven to 180°.

Remove the pears from the poaching syrup.

Arrange the pears in a circle, flat side down and with the tips pointing towards the centre.

Place the circle of puff pastry on top, taking care to tuck the edges down inside the tin.

Bake in the oven at 180° for 30 to 35 minutes. The puff pastry should be golden brown.

Leave to cool for a few minutes before removing the tart from its tin onto a round plate.
Serving suggestion
Never infuse the tea for longer than 10 minutes to keep the delicate spiced flavour and avoid any bitter taste.