Roast chicken leg, butternut squash with rosemary honey and cream of chicken with Fu Lian Bio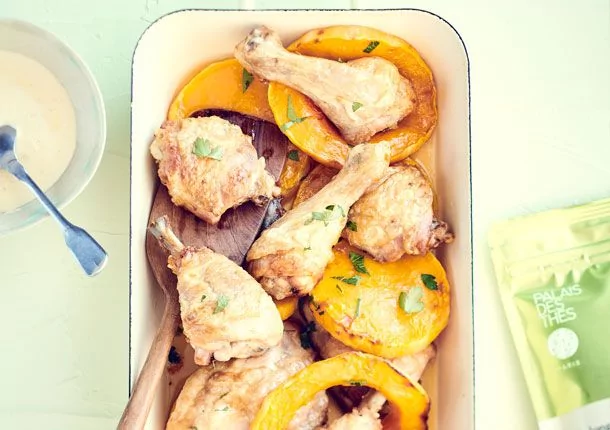 Ingredients
15 g of
4 chicken legs (240 g)
1 butternut squash
50 cl full cream
1 chicken stock cube
15 g rosemary honey
1 tbsp olive oil
50 cl water
Fine salt
Preparation
1.

The chicken
Preheat the oven to 200°.

Separate the thigh from the drumstick. Splice the drumstick.

Place the 4 thighs and drumsticks in a dish. Salt and drizzle with olive oil. Cook in the over at 200° for 40 minutes until the skin is crispy.
2.

The accompaniment
Peel the butternut squash and cut into slices 1 cm thick.

Remove the seeds from the slices at the bottom of the squash.

Place them on a baking tray and drizzle with 15 g of rosemary honey. Salt and place in the over with the chicken for 20 minutes.
3.

The sauce
Dissolve the powdered chicken stock cube in 50 cl water.

Heat the check stock and 50 cl cream, bring to the boil to reduce the cream.

Add the Fu Lian leaves directly into the liquid.

Infuse while simmering for 10 minutes. Remove from the heat and continue infusing for 30 minutes. Filter and return the sauce to the heat to reduce slightly.

The sauce should be thick and creamy.

Adjust the seasoning.

Keep warm.
4.

To serve

Place 2 discs of butternut on a plate. Place the thighs flat and then the drumstick beside it. Coat generously with sauce and decorate with fresh herbs.
Serving suggestion
Fu Lian is an oolong with a delicate taste. Its aroma combines perfectly with the cream in numerous recipes!