Steak with Big Ben Sauce and Yukon Gold & Sweet Potato Gratin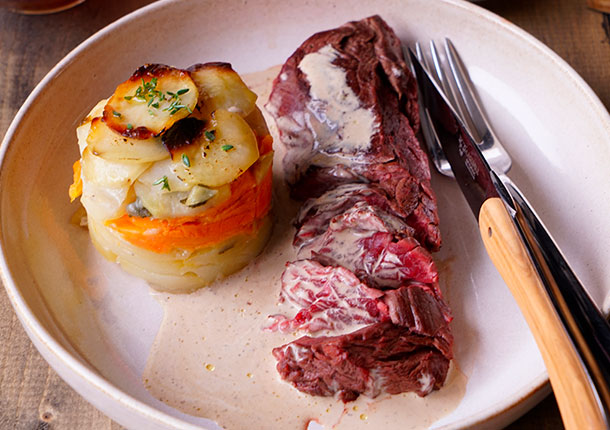 Ingredients
400 g (1 lb) sweet potatoes
1 kg (2 lbs) potatoes
40 g (3 Tbsp) butter
Salt, pepper
6 sage leaves, finely chopped
4 hanger or bavette steaks (approx. 150 g / 5 oz each)
20 g (1½ Tbsp) butter
6 g
tea
3 Tbsp liquid crème fraiche
Preparation
Preheat the oven to 180°C (350°F).

Wash and peel the potatoes and sweet potatoes.

Slice thinly (no need to use a mandoline).

In an oven-safe dish, arrange half the potatoes in a thick layer, then the sweet potatoes, and cover with the remaining potatoes.

Melt the butter in a bowl and add the sage, salt, and pepper. Pour the mixture evenly over the sliced potatoes.

Bake for 1 hour. Use the point of a knife to check that the potatoes are very soft. If the top browns too quickly, cover the dish with aluminium foil.

Steep the tea in 200 mL of water at 90°C (195°F) for 4 minutes.

Preheat a frying pan with the butter. Fry the steaks on both sides to your preferred doneness.

Remove the steaks and cover with tented aluminium foil to rest.

Deglaze the pan with the brewed tea and continue to cook over high heat until it reduces by half. Add the crème fraîche to thicken. Stir, season to taste, and cook for another 5 minutes.

If necessary, return the steaks to the pan to warm.

On each plate, arrange a steak, some sauce, and a serving of potato gratin.
Serving suggestion
The gratin can be plated using an individual cake ring as shown in the photo.