Thé des Alizés Cake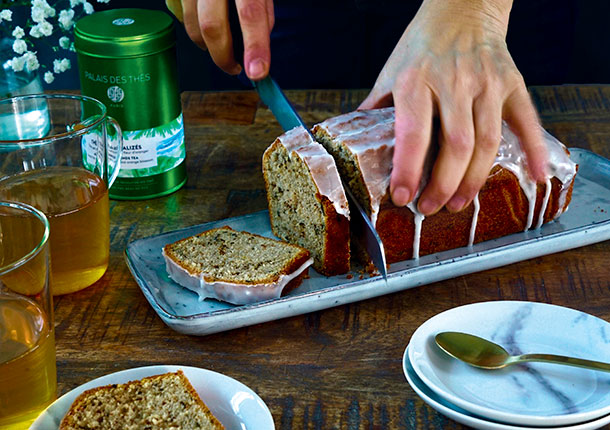 Ingredients
Makes one 9-inch loaf cake
The batter
4 eggs (total 220 g / 1 C)
200 g (1 C) caster sugar
160 g (¾ C) unsalted butter, melted
200 g (1⅔ C) all-purpose flour
1 tsp baking powder
8 g
for steeping + 2 Tbsp to mix in
The glaze
100 g (¾ C) powdered sugar
20 mL (1 Tbsp) cold brewed tea
Preparation
Steep 8 g of tea in 120 mL (½ C) water at 75°C (165°F) for 3 minutes. Remove the tea and let cool.
1.

The batter
Preheat the oven to 170°C (350°F).

In a mixing bowl, combine the melted butter and caster sugar. Add the eggs, flour, and baking powder, then thin with 100 mL (6 Tbsp) of the brewed tea.

Grind the two tablespoons of tea leaves and add to the batter.

Line your loaf pan with parchment paper (to hold it in place, lightly grease the pan first with butter).

Pour the batter into the pan (it should be ⅔ full). Bake for 40 minutes, then check for doneness (a knife inserted into the middle should come out clean). Gently turn the cake out onto a cooling rack.
2.

The glaze
Put the powdered sugar in a small bowl and gradually add the brewed tea while stirring with a fork. The mixture should not be too runny.

Gently spread glaze over the cooled cake using a spatula.

Leave cake uncovered to allow glaze to set.