Winter fruit soup with Milky Oolong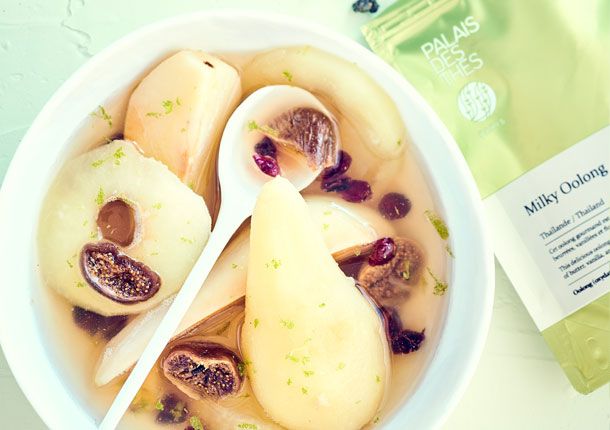 Ingredients
20 g of
2 apples
2 pears
20 g yellow raisins
20 g dried cranberry
2 tbsp honey
2 limes
1 L water
Préparation
1.

The fruit
Peel the 2 apples and 2 pears.

Remove the core of the apple using an apple corer and cut into slices 1 cm thick.

Cut the pears into quarter.

Wash and grate the zest of 1 lime.

Place the fresh fruit and dried fruit in a saucepan, cover with water and add the lime zest and honey.

Pour 20 g Milky Oolong tea into a tea filter and plunge into the saucepan.

Simmer and leave to cook for about 15 minutes.

Leave to cool before placing in the fridge for one hour.
2.

To serve

Peel the 2nd lime and extract the segments. Place the fruit in dessert bowls with the lime segments and filter the juice. Pour the cool juice and serve immediately.
Serving suggestion
The Milky Oolong also goes very well with summer fruits such as peaches and nectarines. A dessert that you can make throughout the year.