Yule log with tea no.25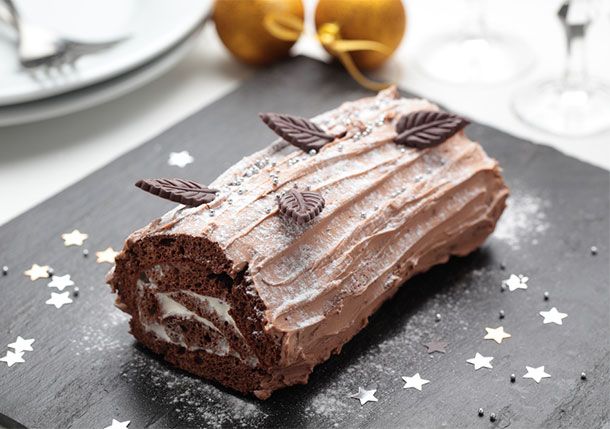 Ingredients
Chocolate Yule log with tea
1 light sponge cake (40 cm x 20 cm x 1 cm)
2 tbsp
150 g dark cooking chocolate
50 g butter
2 tbsp crème fraîche
The topping
100 g dark chocolate, 70%
6 egg yolks
150 g caster sugar
50 g butter
Crème anglaise with tea
½ L milk
2 tbsp icing sugar
1 egg yolk
2 tbsp
Preparation
1.

Chocolate Yule log with tea

Infuse the tea in 15 cl water to make a strong taste. Moisten the sponge cake with the infusion using a brush. Be careful not to soak it. Place it on a clean tea towel. Melt the chocolate in a bain-marie. When it is only just warm, add the softened butter, mix then add the cream. Continue mixing. Spread the chocolate on the sponge cake using a flat knife. Roll the sponge cake using the tea towel to make the Yule log. Roll it in baking paper so that it keeps its shape and chill.
2.

The topping

Melt the chocolate in a bain-marie. Add the sugar, mix and remove from the heat. Add the yolk to give the mixture a glossy look. Top the Yule log and chill.
3.

Crème anglaise with tea

Heat the milk without boiling and leave the tea to infuse for 7 to 8 minutes. Filter. In the meantime, mix the egg yolks and sugar. Once the tea is infused, place the egg yolks in the milk on a low heat and stir gently for 20 minutes using a wooden spoon until the mixture thickens and covers the spoon evenly. Make sure the bottom and sides do not burn. Chill the cream. To serve, pour the crème anglaise with tea over the Yule log.