The art of tea – the French way
Because the finest teas are worthy of the best accessories, Palais des Thés has created an exclusive collection comprising a teapot and cups, in collaboration with the French designer Ionna Vautrin. Two firms that epitomise French craftsmanship were then asked to produce the collection: the porcelain manufacturer Haviland, and Selaneuf, which makes artisan leather goods.
This brand-new, luxury and contemporary collection, La Cavalière, is available as a limited edition and has been made entirely in France.
Behind the scenes of the collection
La Cavalière: a limited edition
made entirely in France
The luxury La Cavalière teapot, with its sleek and bold design, is made from Limoges fine porcelain and features a detachable handle crafted in water-resistant leather, subtly embossed with the Palais des Thés logo. It comes in three colours: fawn, greige and vermilion.
Made entirely in France, it is available as a limited edition of 600 pieces, each numbered by hand.
Brand new. Contemporary. Limited edition.
Attention to detail
To make this limited edition, Palais des Thés chose the prestigious French porcelain manufacturer Haviland, as well as the leather goods specialist Selaneuf, which is constantly innovating while perpetuating rare manual production methods, for the detachable leather handle.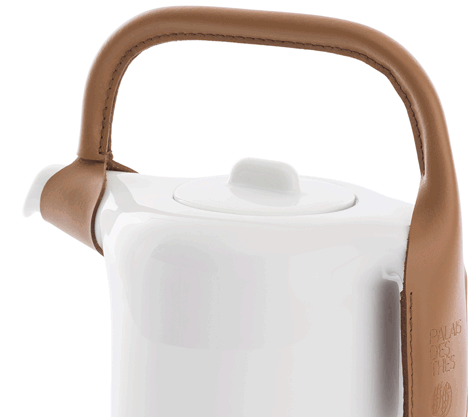 La Cavalière cups:
a stylish and sleek design
Echoing the delicate, sleek lines of the teapot, the La Cavalière cups bring a unique new harmony to the art of savouring the best of tea.
Made entirely in France, the set of two cups is available in a limited edition of 400.
Ionna Vautrin, a French designer
who is reinventing everyday objects
Ionna Vautrin graduated from Nantes Atlantique Design School in 2002. She honed her craft working with Ronan & Erwan Bouroullec before opening her own studio in 2011.
Palais des Thés was attracted to this fan of Earl Grey tea for her fresh, sleek designs that combine simplicity, playfulness and character with practicality.