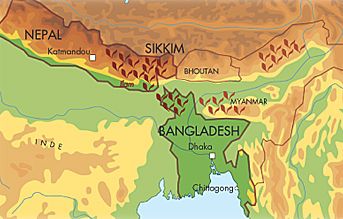 Historical background
Nepal is a relative newcomer to the world of tea. The first Nepalese tea gardens were created in 1920. They covered a surface area of only one hundred hectares. It was not until 1960 that Nepal opened its first manufacturing companies. During the subsequent decades, the practice of growing tea plants gradually became more widespread and in the mid-1980s, the government declared the 5 eastern districts of Nepal "tea growing areas".
Numerous plantations equipped with factories have since been created. The tea industry was given fresh momentum in 1997 following its privatisation: Nepal now boasts more than 85 plantations and tea provides a livelihood for about 7,500 small-scale farmers who sell their leaves to the factories.
Black teas similar to Darjeeling
Nepal almost exclusively produces black tea, and while most of these teas are processed using the CTC process, some gardens – for the most part located in the districts of Ilam and Dhankuta – produce orthodox teas worthy of being included among the Grands Crus. The land is comparable to that of Darjeeling, endowing the teas with similar characteristics boasting distinct floral and fruity notes.
Long overshadowed by Darjeeling, where the vast majority of the harvest passed through the mountains, Nepal has now made a name for itself among tea aficionados thanks to the work of bold and curious plantation managers who have followed training courses in the major producer countries.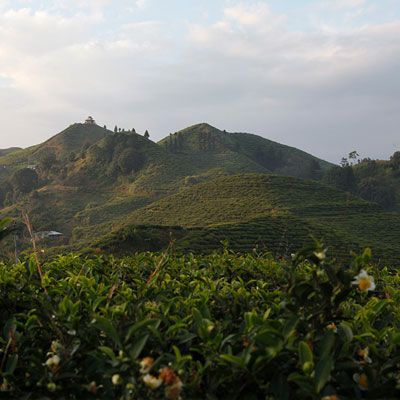 The best Nepalese teas
Purchased from the planters directly, our Nepalese teas are carefully selected by our experts. These supplies enable us to offer very fresh, high-quality teas along with a selection of rare teas from small-scale plantations. Among these is the Guranse plantation, situated at almost 2,000 metres above sea level and overlooking Makalu, the 5th highest mountain in the world.