Risotto with Sencha Ariake and Prawns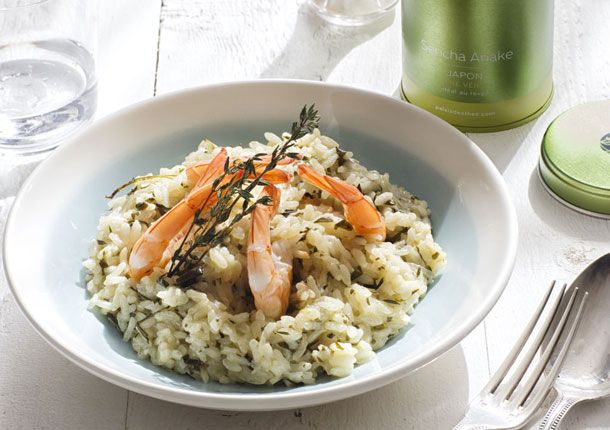 Ingredients
3 tablespoons (0.4 oz)
9 oz risotto rice, such as Arborio
1 onion
1 clove garlic
3 tablespoons olive oil
1 sprig thyme
100 ml white wine
1 L chicken stock
16 large shelled prawns
Salt and pepper
Preparation
Peel and mince the onion and garlic.

Warm the olive oil in a frying pan.

Add the onion, garlic, and thyme. Cook until the onions are transparent, approximately 3 minutes.

Add the rice. Fry for a few minutes, stirring constantly, until the rice becomes transparent.

Add the white wine.

Once the rice has absorbed the wine, add a ladleful of stock. Stir.

Once the stock is absorbed, add another ladleful, continuing until no stock remains.

Sprinkle in the tea in the middle of this process.

Add the prawns.
Serving suggestion
For a richer risotto, top with parmesan curls before serving.