Description
Sencha Ariake is a Japanese green tea that makes a good introduction to Sencha. Produced in Kyushu province, Sencha Ariake is the smoothest of the fine Sencha teas.
Both smooth and stimulating, it is ideal in the morning and recommended to aid concentration. It is also rich in antioxidants!
Tasting notes
Liqueur
Colour: an attractive green colour
Texture in the mouth: smooth and velvety

Flavour: slightly acidic
Aromas: iodine to start, marine (raw fish and seaweed), vegetal (cooked vegetable to start followed by an underlying cut grass note)

Suggestion of preparation
With the tasting set: 2' minutes in water heated to 75°C.
To prepare iced tea:
Steep 20g in 1L of water at room temperature 30min. Remove the tea leaves and refrigerate.
Recipe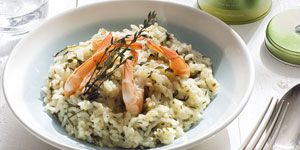 Risotto with Sencha Ariake and Prawns
Serves 4
Preparation time : 45 minutes
Cook time : 35 minutes
View recipe
Tea ingredients
green tea (Japan)