Wok-Fired Soba with Vegetables Genmaicha Yama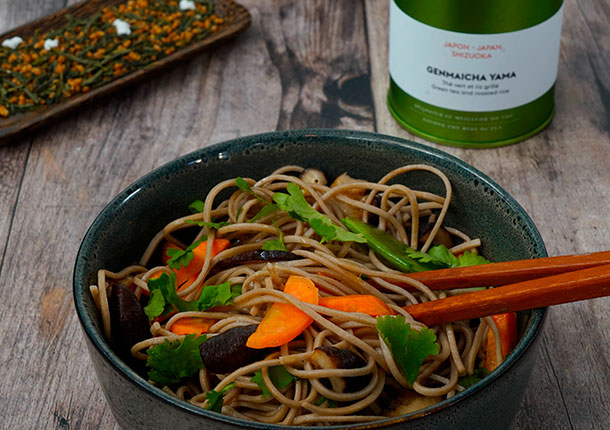 Ingredients
70 g
tea
1 packet soba (Japanese buckwheat noodles)
200 g (7 oz) shiitake mushrooms
100 g (3.5 oz) snow peas
3 carrots
2 tablespoons sesame oil
2 spring onions
Fresh coriander
Preparation
Steep 70 g (2.5 oz) of Genmaicha Yama in 1 L of water at 75°C (165°F) for 2 minutes. Remove the tea leaves and set aside the brewed tea to cook the soba noodles.

Peel the carrots. Rinse the carrots, snow peas, and shiitake mushrooms in cold water.

Heat a pot of salted water and blanch the snow peas for 3 minutes. Drain and cut in half.

Cut each carrot in half and then into small rounds. Cook the carrot rounds in a pot of hot salted water for 4 minutes, taking care to remove them while still crunchy. Drain and set aside.

While the vegetables are cooking, slice the mushrooms and sauté them over high heat in the wok for 10 minutes with 1 tablespoon of sesame oil. Stir often and salt at the end of cooking.

Pour the brewed tea into a large saucepan, bring to the boil, and add the noodles.

Cook according to package directions, removing 2 minutes before the time indicated or they will be too sticky. Drain the noodles.

To finish, add the remaining vegetables to the wok, along with the noodles and another tablespoon of sesame oil. Mix well and cook for 2 minutes. Season to taste.

Cut the coriander and spring onions with scissors and sprinkle over the wok.