Description
Hammam Tea, an essential from Palais des Thés
Hammam Tea is one of the most popular teas at Palais des Thés. This emblematic flavoured tea has been in constant demand since its creation in 1998!
Delicious and fruity, Hammam Tea is inspired by a traditional Turkish recipe. Its flavour is a combination of green date, orange blossom, rose and red fruit.
Mathias Minet, who creates the flavoured teas for Palais des Thés, designed this emblematic tea in 1998. This tea, inspired by the Turkish art of living, is inspired by the rituals of hammam care. This tea encourages you to take a moment to yourself, to soak up the harmony and calm that are so typical of these places of well-being.
Hammam Tea has floral and fruity notes, including green date, orange blossom, rose and red fruit, scents that evoke the opulent gardens on the banks of the Bosphorus. In the purest oriental tradition, it is embellished with flower petals. Its extraordinary fragrance is the result of the subtle combination of Chinese green tea, known for its freshness and thirst-quenching properties, and the delicious scents of fruit.
Tasting this tea is like taking a journey to distant imaginations.
The green date:
The date is not a fruit but a berry which, when green, is partially ripe. This gives off a warm, sweet fragrance.
Red fruit:
Delicately sour, the red fruit and strawberries in Hammam Tea add a gourmet touch to this essential blend.
Orange blossom:
The sun-drenched blossoms of the Bitter Orange tree give off the sweet, fresh scent of white flowers in Hammam Tea.
Rose:
The familiar, heady notes of rose delicately envelop this flavoured creation, evoking faraway gardens.
A cup of Hammam Tea is drunk every 2 seconds around the world!
Suggestion of preparation
To prepare latte tea:
Steep 8g in a mixture of 25cl of water at 75°C and 25cl of hot milk for 5min.
Find out more about the latte preparation.
Recipe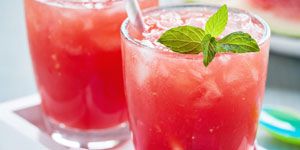 Hammam Tea granita with raspberries
4 glasses
Cocktails
View recipe
Tea ingredients
green tea (China) (94%), flavours (including strawberry 2%), flower petals (blue mallow, red rose, sunflower) (3%).