Description
Organic Andalusian garden is a delectable organic herbal tea made of fruit, plants and flowers. Enter into a luscious garden of deliciously acidic pink grapefuit and lemon flavours. Andalusian garden is absolutely caffeine-free and delicious either hot or iced.
With its expertise in creating flavoured teas, Palais des Thés has reinvented infusions in an original and evocative way, transporting you to its magical gardens. The Gardens are delicious herbal infusions with interesting, modern, enticing flavors, complex combinations of fruits, flowers and herbs with many virtues and flavors, perfect for sharing with family and friends.
They contain no artificial flavourings and no added sugar: some blends may contain some sugar but it only comes from candied fruits.
Note: because the pieces of some fruit differ in size, infusions may vary in colour or taste. This does not affect their quality.
Suggestion of preparation
To make iced infusion:
Use 10g-15g per 50cl water and infuse Andalusian garden at room temperature for 60 minutes.

When the infusion is ready, place the liquor in the fridge to cool.
Recipe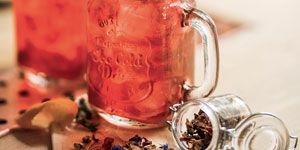 Tea ingredients
apple*, rose hip*, hibiscus*, lemon peel* (11%), natural grapefruit flavour (3%), pineapple*, cornflower petals*.
*Organically grown ingredients.