Description
Inspired by our most cherished childhood memories, Vive les Fêtes is a flavored blend with notes of almond and cinnamon that reminds us of the sweet treats of carnival.
Suggestion of preparation
To prepare latte tea:
Steep 8g in a mixture of 25cl of water at 90°C and 25cl of hot milk for 5min.
Find out more about the latte preparation.
Recipe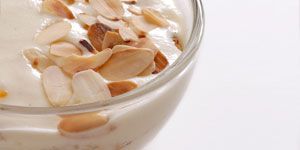 Almond cream with Vive les Fêtes tea
Serves 6
Dessert
Easy
View recipe
Tea ingredients
green tea (39%) and oolong (24%) (China), cinnamon (12%), coconut, puffed rice, almond (6%), sweet blackberry leaves, flavours